One vitamin to rule them all.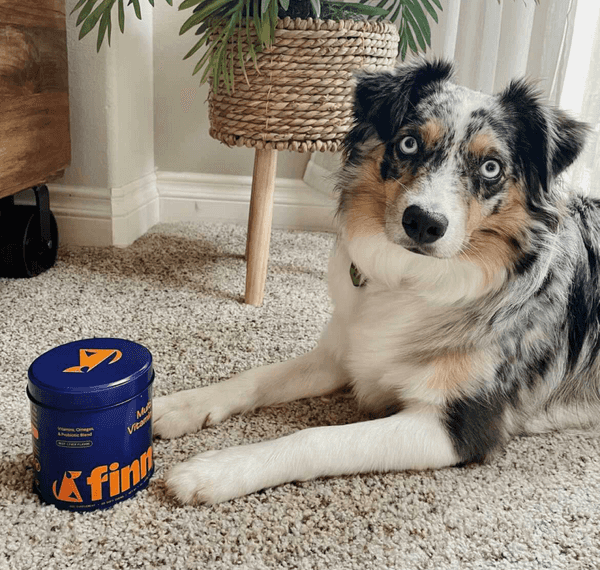 Finn's Multivitamin supplement offers your dog a scientifically-balanced formula that combines vitamins, probiotics, and healthy omegas that support digestion and absorption of essential nutrients for everyday vitality.
All-in-one vitamin for everyday energy & vitality.
Targeted joint support from Glucosamine and MSM.
Live probiotics help maintain a healthy gut
Packed with healthy Omega-3s for skin & brain health
Active Ingredients Per Chew
Active ingredients per soft chew (2.5g)
Probiotic Blend

500M CFU

Glucosamine HCL

250 mg

Methyl Sulfonyl Methane

100 mg

Chondroitin

75 mg

EPA

30 mg

DHA

20 mg

CoQ10

10 mg

Vitamin C

10 mg

Vitamin B12

5 mg

Thiamine (Vitamin B1)

2 mg

Riboflavin (Vitamin B2)

1.25 mg

Pyridoxine (Vitamin B6)

1.25 mg

Biotin

5 mcg
Inactive Ingredients
Ingredients: Brewer's Yeast, Tapioca Starch, Vegetable Glycerin, Purified Water, Sunflower Lecithin, Natural Cheese, Safflower Oil, Natural Beef Liver, Organic Honey, Natural Bacon Flavor, Ascorbic Acid, Mixed Tocopherols, Natural Preservative.